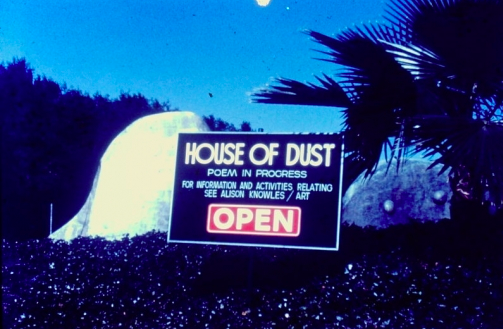 Alison Knowles, "The House of Dust."
Image courtesy Alison Knowles and James Fuentes, NY
"Art by Translation" à Los Angeles
Les participants du postmaster "Art by Translation" interviendront à Los Angeles les 23 et 24 Mars à Los Angeles à CalArts et RedCat.
Programme :
Reframing The House of Dust: Activations – Program Notes
On its 50th Anniversary, Artist Alison Knowles' Landmark House of Dust to be Celebrated with Performances at CalArts and a Symposium at REDCAT
Reframing the House of Dust: A Symposium
Art by Translation est un programme de recherche et d'exposition initié par l'École Nationale Supérieure d'Arts de Paris-Cergy et l'École Supérieure des Beaux Arts TALM Angers, dirigé par Maud Jacquin et Sébastien Pluot, directeurs fondateurs et Jeff Guess, directeur pédagogique. Il est soutenu par le ministère de la Culture et collabore avec de nombreuses institutions académiques et artistiques internationales.
Art by Translation propose une plateforme expérimentale permettant aux projets de se développer de manière organique dans différents contextes et sous différentes formes: œuvres d'art, constructions architecturales, expositions, groupes d'études, symposiums et publications avec des conférenciers de renom. Son modèle rompt avec la chronologie classique «recherche-exposition- publication» et vise à reconfigurer les frontières traditionnelles entre les disciplines de l'art. Le programme stimule les collaborations et les échanges, encourageant la redistribution des rôles et des compétences. Les projets ne sont pas considérés comme des résultats finaux mais plutôt comme des étapes d'un processus et des points de départ pour d'autres élaborations.
Deux projets principaux serviront de cas d'études ou de modèles de recherche :
-The House of Dust l'Alison Knowles, une œuvre de 1967 impliquant la traduction d'un poème généré par ordinateur en architectures et événements. L'œuvre est réinterprétée dans le présent par des artistes contemporains, des architectes et des chercheurs. Une session à CalArts comprenant des séminaires, des performances et un symposium inaugurera une année de recherche collective menant à une exposition au Centre MAK pour l'art et l'architecture à la Maison Schindler à Los Angeles.
-Une exposition à la Galerie Art & Essai, à l'Université Rennes 2 et à l'École Supérieure des Beaux Arts TALM Angers mettant en scène la production en continu d'un film qui interroge la traduction entre œuvres, événements, performances et leur documentation filmique. Les participants à Art by Translationcollaboreront avec des artistes invités et des réalisateurs de films.