Curriculum
ENSAPC's curriculum is divided into three blocs called UE (EDUCATIONAL UNITS). THE FIRST IS DEVOTED TO THEORETICAL / CRITICAL INSTRUCTION; THE SECOND TO ARTISTIC EXPERIMENTATION / PRODUCTION; AND THE THIRD TO PUBLIC PRESENTATION / EXHIBITION. ALL THREE OFFER COURSES, WORKSHOPS, STUDIOS, SEMINARS, AND RESEARCH PROJECTS.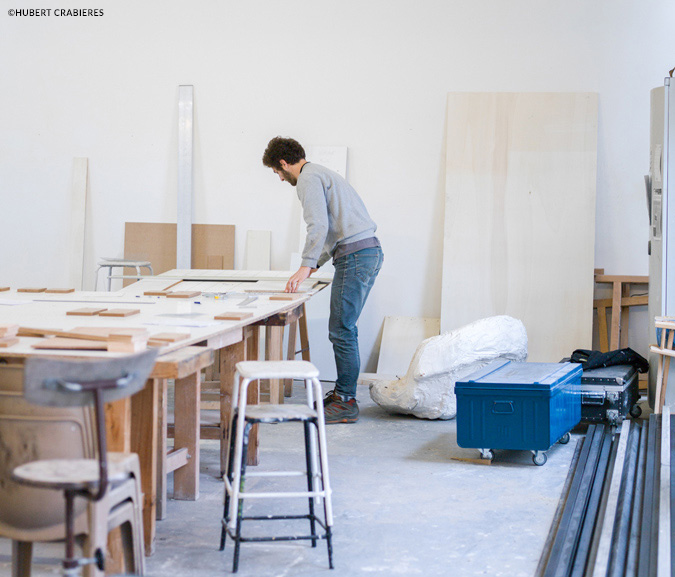 Education at ENSAPC is organized into two cycles :
– The first cycle extends over six semesters and leads to the Diplôme national d'arts (DNA), which has the same weight as a Licence (bachelor).
– The second cycle lasts four semesters and leads to the Diplôme national supérieur d'expression plastique (DNSEP), a master-level credential.
In the European system of higher education, successful academic work results in transferable European credits (ECTS); up to 30 credits may be earned each semester. Students must choose a certain number of credit-bearing offerings (courses, creative research workshops, studios, follow-up seminars, and research projects) from within each of the three educational units, designated below by the French acronym, "UE."
EDUCATIONAL UNITS
Artistic experimentation and student autonomy—under faculty guidance—lie at the heart of the curriculum and are the central principles behind all teaching at ENSAPC. At both the undergraduate and graduate levels, ENSAPC students choose their courses and other credit-bearing work from within three major groups:
– UE 1: Courses (such as history of art and media, theoretical and cultural studies, philosophy, creative writing, anthropology, language, and more); research projects; seminars on methods; and thesis supervision.
– UE 2: Initiation workshops; creative research workshops; studio activities; and other workshops.
– UE 3: Group discussions, exhibition methods, seminars on criticism, internships, international mobility.
Candidates for the DNSEP must demonstrate that they have acquired at least one semester of experience outside France during their degree work (usually during the first year of study toward the DNSEP). Students may meet the requirement by spending a semester abroad at a partner school, or by completing an internship of no less than four months.
PEDAGOGICAL APPROACHES

The UEs all deploy a variety of pedagogical approaches to achieve learning objectives.
COURSES
In addition to their role in transmitting knowledge, courses are indispensable for imbuing students with the language and concepts of art. All coursework at ENSAPC is based on a critical approach, an historical perspective, and a productive dialogue with works of art. Professors encourage exchange, debate, and openness to the world. Some courses are taught in English.
CREATIVE RESEARCH WORKSHOPS
Led by one or more faculty members, these distinctive workshops, known as ARCs (Ateliers de Recherche et Création), focus on a specific question. In response, various practices are employed and lines of inquiry opened to expand the research horizon, multiply points of view, and enrich each participant's individual work through collective reflection. The ARCs favor cross-cutting approaches, multidisciplinarity, and experimentation.
INITIATIONS
The managers of the technical workshops—sculpture, photography, video, sound, publishing, and silk-screening/printing—hold introductory sessions for first-year students. They also guide and support students at every level of the curriculum as they work on projects in their workshops.
STUDIOS
At the heart of every studio lies a specific artistic practice and its technical and conceptual components. Throughout the curriculum, studios help students explore and understand their chosen practices.
FACULTY COORDINATION AND FOLLOW-UP SEMINARS 
Each year in the curriculum is the responsibility of a team of faculty coordinators. The team oversees the delivery of the curriculum, the development of students' artistic practice, and the maintenance of balance in students' choices of educational offerings. Every week or two, the faculty coordinators bring together the students of a given year for a follow-up seminar, where the students present their work under rigorous conditions and report on the progress of their research and practice. On occasion, experts from outside the school may be invited to give their views of student work. Each presentation is a critical test of the quality of the student's work and the vitality of his or her artistic project.
RESEARCH PROJECTS
Research projects are designed primarily for students in their fourth and fifth years. These educational opportunities involve theoretical and experimental research in the arts. Structured in various ways, they draw on a variety of institutional partners, artists, and researchers in related disciplines. Projects may extend over several years. Students' explorations in the research projects typically complement and enrich their DNSEP thesis research. The work performed by student researchers often finds its way into colloquia, publications, exhibitions, and productions.
WORKSHOPS
Workshops are intensive short sessions in which a small group of students work together on a specific question. The work may involve production, exploration, or exchange. Workshops are led by one or more ENSAPC faculty members, possibly with the participation of outside contributors. They take place at the end of the first semester (January) and at other points during the year as required for certain pedagogical activities. In parallel with the usual pedagogical approaches at ENSAPC, they advance students' work by encouraging them to step away from their own practice and, for a short time, immerse themselves in a dialogue with the work of another artist or thinker.
THESIS
The master's thesis that is required of all ENSAPC graduate students is a keystone the school's approach to student research and independent thought. In their final undergraduate year, students are introduced to research methods. This initiation is followed up in the following year and reinforced by doing research projects. Students sift through documents, historical evidence, theoretical analysis, literary experiments, and narrative forms to produce an original text, image, or sound. Regardless of the mode of writing adopted, rigorous thought and deft interweaving of theory and practice count just as much as the volume of the material students collect during their investigations.
INTERNSHIPS
In the second year of the undergraduate curriculum, students are required to complete an internship lasting 15 days to a month. The nature and timing of the internship will depend on the student's artistic project.
STUDY TRIPS
Many types of learning—be they research projects or ARC workshops—center on travel in France or abroad. Study trips during the academic year enable students to grapple with the subject of their work and to promote an intercultural dialogue that stimulates their thinking.
INTERNATIONAL MOBILITY
International mobility signifies an experience outside France that encourages students to grow by acquiring new knowledge, studying new contexts, trying out new forms of engagement and cultural translation, and participating in international professional networks. The experience brings students into dialogue with other ways of understanding and reconfiguring social and individual approaches to the transformations convulsing our world. A required part of the DNSEP curriculum, students' mobility plans must be consistent with their artistic project and take one of two forms: (i) an exchange at a partner school or university lasting for a semester (or, exceptionally, for an entire year) or (ii) an internship of at least four months. The requirement is met in the first year of the DNSEP program.
Enregistrer
Enregistrer
Enregistrer
Enregistrer
Enregistrer
Enregistrer
Enregistrer
Enregistrer
Enregistrer