The following page has not been translated, please see below for the content in French :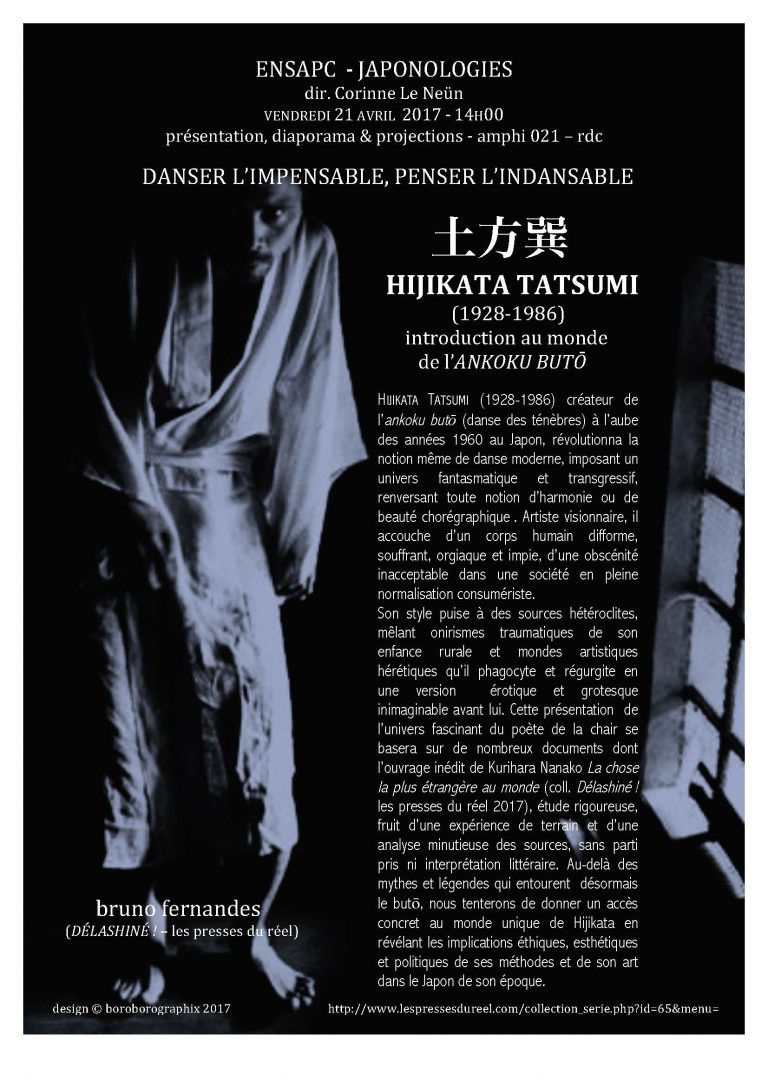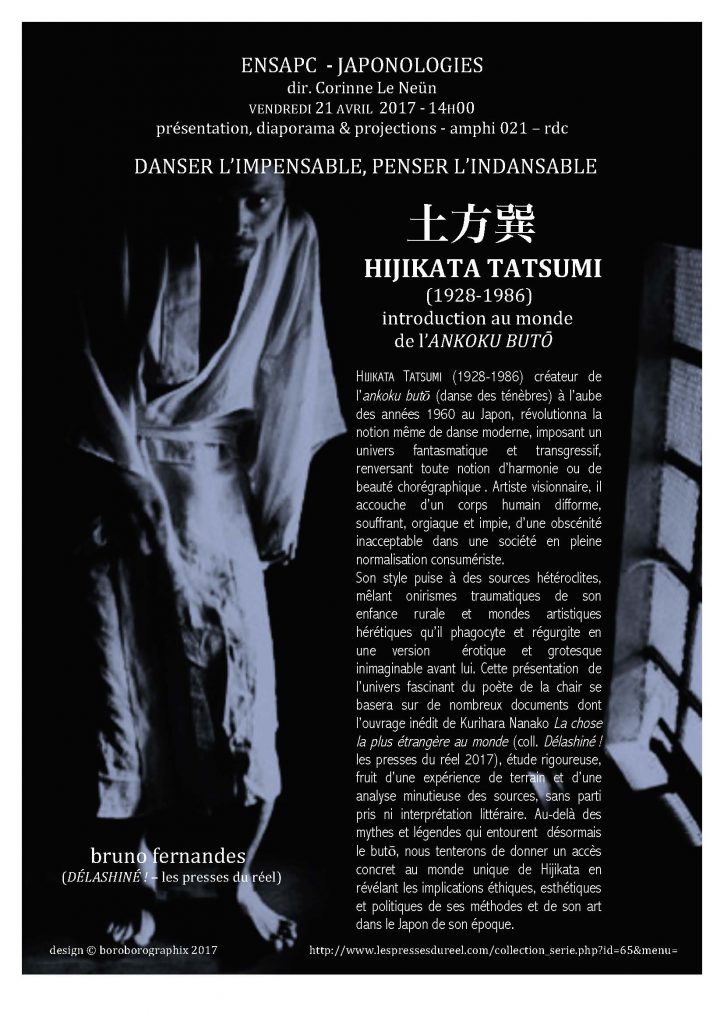 ENSAPC – JAPONOLOGIESdir.
dir. Corinne Le Neün
VENDREDI 21 AVRIL 2017 – 14H00
présentation, diaporama & projections
– amphi 021 – rdc DANSER L'IMPENSABLE, PENSER L'INDANSABLE
HIJIKATA TATSUMI
(1928-1986) | introduction au monde de l'ANKOKU BUTŌ
HIJIKATA TATSUMI (1928-1986) créateur de l'ankoku butō (danse des ténèbres) à l'aube des années 1960 au Japon, révolutionna la notion même de danse moderne, imposant un univers fantasmatique et transgressif, renversant toute notion d'harmonie ou de beauté chorégraphique . Artiste visionnaire, il accouche d'un corps humain difforme, souffrant, orgiaque et impie, d'une obscénité inacceptable dans une société en pleine normalisation consumériste. Son style puise à des sources hétéroclites, mêlant onirismes traumatiques de son enfance rurale et mondes artistiques hérétiques qu'il phagocyte et régurgite en une version érotique et grotesque inimaginable avant lui. Cette présentation de l'univers fascinant du poète de la chair se basera sur de nombreux documents dont l'ouvrage inédit de Kurihara Nanako La chose la plus étrangère au monde (coll. Délashiné ! les presses du réel 2017), étude rigoureuse, fruit d'une expérience de terrain et d'une analyse minutieuse des sources, sans parti pris ni interprétation littéraire. Au-delà des mythes et légendes qui entourent désormais le butō, nous tenterons de donner un accès concret au monde unique de Hijikata en révélant les implications éthiques, esthétiques et politiques de ses méthodes et de son art dans le Japon de son époque.