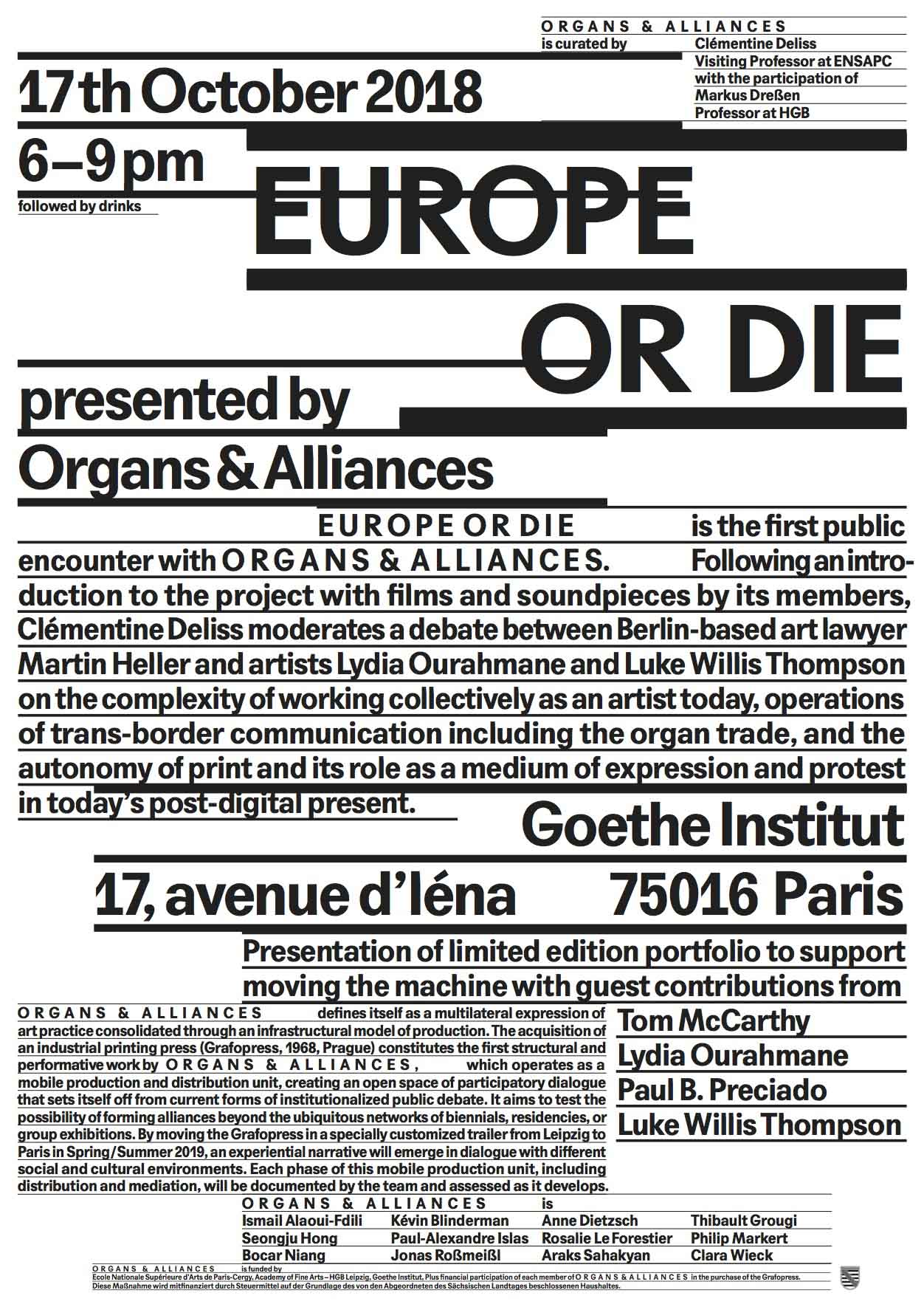 EUROPE OR DIE is the first public encounter with the artists' group Organs & Alliances based in Paris and Leipzig.
Following a multi-media introduction to their experimental model for trans-border art production, curator Clémentine Deliss and artist Kévin Blinderman moderate a debate between 2018 Turner Prize nominated artist Luke Willis Thompson, artist Lydia Ourahmane, graphic designer and publisher Markus Dreßen of Spector Books, and Berlin-based artist counsellor and lawyer, Martin Heller.
Issues to be debated include the question of trust and the ensuing complexity of working collectively as an artist today, operations of trans-border communication extending beyond Europe that encompass the illegal trade in organs, and the autonomy of print and its role as a medium of expression and protest in today's post-digital present. Does the tension and hesitancy to formulate new alliances between art practitioners signify a form of vigilance on their part? Or is it rather the symptom of a deeper socio-political state of unease within international politics that works to entrench identity and boost individualism? What are the new colonies instituted today through criminal forms of dismemberment? As philosopher Paul B. Preciado writes for Organs & Alliances, "The trans body is to normative anatomy what Africa was to Europe: a territory to cut up and distribute to the highest bidder. Breasts and skin for cosmetic surgery, the penis for psychiatry, the vagina for the surgery of the State. What the scientific and technical discourse of the West considers to be the emblematic sexual organs of masculinity and femininity, the penis and the vagina, are no more real than Rwanda or Nigeria, Spain or Italy."
A limited-edition portfolio produced on the Grafopress, will be launched at the event and includes texts, images, manifestos, and offline letters by Tom McCarthy, Lydia Ourahmane, Paul B. Preciado and Luke Willis Thompson. Purchases of the portfolio act as a subscription to all further printed material to be produced on the road in 2019 by Organs & Alliances.
Organs & Alliances defines itself as practice consolidated through an infrastructural model of production and the configuration of a new framework for public debate. The collective acquisition of an industrial printing press (Grafopress, 1968, Prague) constitutes its first structural and performative work. Creating an open space of participatory dialogue, it sets itself off from current forms of institutionalized public debate and aims to test the possibility of forming professional alliances beyond the ubiquitous networks of biennials, residencies, or group exhibitions. By moving the Grafopress in a specially customized trailer from Leipzig to Paris in Spring/Summer 2019, an experiential narrative will develop in dialogue with different social and cultural environments ranging from leisure camps, to arms factories and slaughterhouses. Each phase of this mobile production unit, including distribution and mediation, is documented by the team and assessed as it develops.
Organs & Alliances is: Ismail Alaoui-Fdili (Morocco/France); Kévin Blinderman (France); Anne Dietzsch (Germany); Thibault Grougi (France); Seongju Hong (Korea/France); Paul-Alexandre Islas (Mexico/France); Rosalie Le Forestier (France); Philip Markert (Germany); Bocar Niang (Senegal/France); Jonas Roßmeißl (Germany); Araks Sahakyan (Spain/France); Clara Wieck (Germany).
Curated by Clémentine Deliss, Visiting Professor, Ecole Nationale Supérieure d'Arts de Paris-Cergy (ENSAPC) with the participation of Markus Dreßen, Professor of Graphic Design at the Hochschule für Grafik und Buchkunst (HGB), Leipzig. Support: Nina Volz (ENSAPC)
Wednesday, October, 2018, 18h-21h