Curriculum
ENSAPC's curriculum is divided into three blocs called "units of education" (UE) that include courses, creative and research workshops, studios, seminars, and research projects.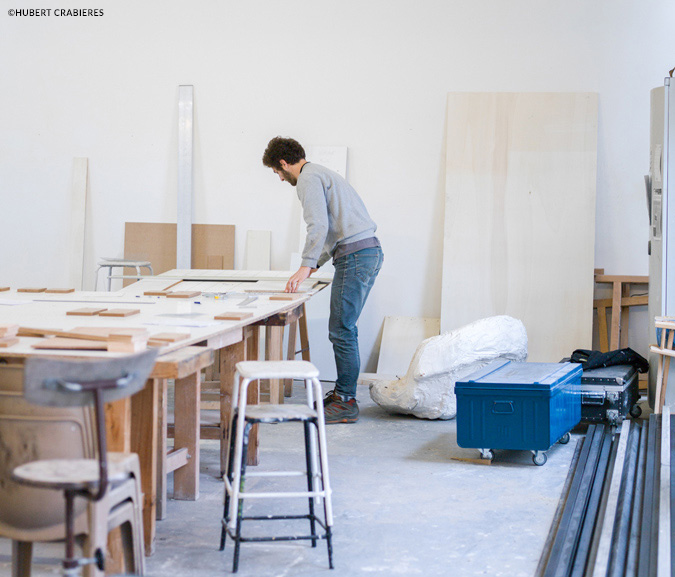 Education at ENSAPC is organized into two cycles :
– The first cycle, which is program-based, extends over six semesters and leads to the Diplôme national d'arts (DNA), which has the same weight as a Licence (bachelor).
– The second cycle, which is project based, lasts four semesters and leads to the Diplôme national supérieur d'expression plastique (DNSEP), a master-level credential.
In the European system of higher education, successful academic work results in transferable European credits (ECTS); up to 30 credits may be earned each semester. The sole constraint imposed on students at ENSAPC is to maintain a balance between the three UEs, the balance being defined by the number of credits earned in each UE. Within each UE, students are free to choose instructional offerings that contribute to the realization of their personal goals. These offerings come in several formats—chief among them courses, creative and research workshops, studios, follow-up seminars, and research projects. To formalize their commitments and construct a curriculum that expresses those commitments, students sign a "study contract" at the beginning of each year. The contract is countersigned by a faculty coordinator.
UNITS OF EDUCATION
The units of education are:
– UE 1 : Philosophy, history, culture, theory, and language, corresponding to theoretical education and an initiation into research.
– UE 2 : Production, realization, and experimentation, representing practical instruction (studios, workshops).
– UE 3 : Exhibition and criticism, a unit that comprises group discussion and criticism of works of art in follow-up seminars; an individual research project; production of an original work; and exposure to the professional world.
FIRST CYCLE (LICENCE/BACHELOR LEVEL)

SECOND CYCLE (MASTER LEVEL)

MODES OF INSTRUCTION
COURSES
In addition to their role in transmitting knowledge, courses enable students to absorb the language and concepts of art. All coursework at ENSAPC is based on a critical approach, an historical perspective, and a productive dialogue with works of art. Instructors encourage exchange, debate, and openness to the world. Some courses are taught in English.
WORKSHOPS FOR RESEARCH AND CREATION
Led by one more faculty members and ENSAPC artists, the distinctive workshops for research and creation (known as ARCs) focus on a specific problem. In response to that problem, various practices are employed and lines of inquiry opened to expand the research horizon, multiply points of view, and enrich each participant's individual work through collective reflection. The ARCs favor cross-cutting approaches, multidisciplinarity, and experimentation.
STUDIOS
At the heart of every studio lies a specific artistic practice in its technical and conceptual components. Throughout the curriculum, studios help students explore and understand their chosen practices.
FACULTY COORDINATORS AND FOLLOW-UP SEMINARS
Each year is the responsibility of one or more faculty coordinators and a coordination team consisting of three to six instructors. The coordination team defines the themes that are to distinguish that particular year. In so doing, the team sets directions for the year, organizes academic programs, encourages balance in students' instructional choices, monitors and evaluates student progress, and sees that the semester unfolds in a productive way. It also ensures openness and complementarity in the choices made from one year to the next.
Organized on a weekly and fortnightly basis, follow-up seminars bring together all of the students in a given year with their coordination team. On occasion, experts from outside the school may be invited to give their views of student work. At each session, designated students present their work under rigorous conditions paralleling an actual exhibition or demonstration, supplemented by conceptual discussion of the evolution of the student's work since the beginning of the year. Each presentation is a critical test of the quality of the student's work and the vitality of his or her artistic project. Attendance at presentations is mandatory and is taken into account in assessments and in the award of credit.
RESEARCH PROJECTS
Research projects are open to students in their fourth and fifth years. These educational opportunities involve theoretical and experimental research in the arts. They take the form of seminars and work programs representing multiyear institutional commitments by the school's research partners. The explorations that students undertake in the research projects typically complements and enriches their thesis research. The work performed by student researchers often finds expression in colloquia, publications, exhibitions, and productions.
Enregistrer
Enregistrer
Enregistrer
Enregistrer
Enregistrer
Enregistrer
Enregistrer
Enregistrer
Enregistrer