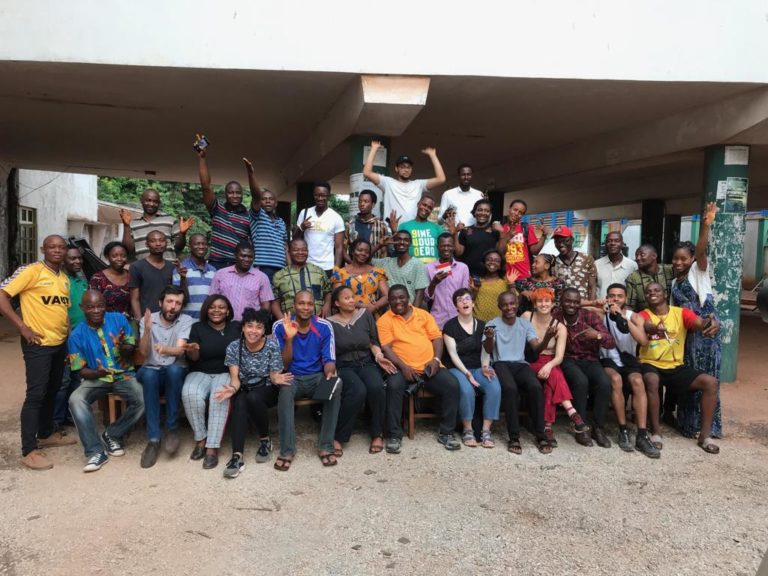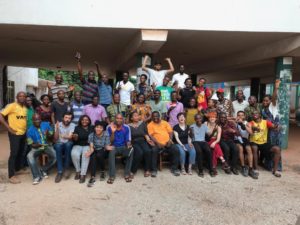 With students from Ecole National Supérieure d'Arts de Paris-Cergy (ENSAPC), France, in collaboration with the staff and students of the Fine and Applied Arts Department, The University of Nigeria, Nsukka, the School of Art Printing and Design, Yaba College of Technology Lagos, Nigeria, CCA Lagos
In memoriam Bisi Silva
Project Curator; ENSAPC 2018–2019 Visiting Professor Senam Okudzeto, Conceptual Drawing Professor
Featuring a final exhibition of student artworksm Tuesday, April 30th, Alliance Française Lagos/ Mike Adenugu Centre
See the broadcast from TV 360 Nigeria
Context
Counter Histories of a Continent; Making, Mapping, Recovering and Reviewing is a research and practice course taught by Visiting Professor Senam Okudzeto in the 2018–2019 academic year at ENSAPC. Mixing research and practice, students are led through an eclectic archive of materials exploring a range of problematic, yet provocative, historical constructions which question why "Africa" is often perceived as a monocultural discourse, rather than a diverse continent with a plurality of cultural and historical periods, peoples and narratives.
How to guide students through a quagmire of potentially problematic historical constructions? How do we gain entry to complex intra-national art histories as written by Africans themselves? How do African histories challenge preconceptions of narratives previously authored outside their national boundaries?
The Counter Histories seminar program examines the difficulty of constructing a conclusive "African Art history", a pervasive, yet nonetheless futile pursuit which has yet to be abandoned in the populist imaginary of Africa; instead of outlining an "African Art History" students examine a history of Africa as constructed by artists, writers, musicians and filmmakers. This paradigm shift in research methodology attempts to "counter" stereotypes through an analysis of constructions of the image of Africa in the past 100 years, artifacts made both in and outside the geographical boundaries of the continent.
The Conceptual Drawing Workshop, Nsukka, Lagos, 2019
The most important part of the Counter Histories course is the ENSAPC 2019 exchange trip to Nigeria, organized in collaboration with CCA Lagos and the art departments of Yaba College of Technology and The University of Nsukka. Begun as a conversation with Bisi Silva in August, 2009, the workshop for this project was developed by Senam Okudzeto with the aim of allowing a group of exceptional Nigerian and French art students to work together on a creative project intensively.
Participants in the workshop are taken through a series of tasks designed to simultaneously equip novices and experts with practical drawing skills, before asking them to deconstruct newly acquired skills in unorthodox or unexpected ways. In addition, students are taught how to take the principles of drawing off the page into the construction of conceptual practice; making video, drawings, dance, sculptures as the course progresses.
All students will be expected to work towards the generation of a public exhibition project and related publication program in both Nigeria and France and are invited to submit work as part of ENSAPC's tender to participate in France's nationwide Saison Africa 2020.
Donors:
El Anatsui
ENSAPC
Sponsor:
Prince Yemisi Shyllon
Visit to Abeokuta African Drumming Festival and the OAYASAF collection suppported by:
Prince Yemisi Shyllon
The Omooba Yemisi Adedoyin Shyllon Art Foundation (OYASAF)
The Ogun State Governor, Mrs Yewande Amusan, SSA to the State Governor
With the support of:
Alliance Française Enugu
Alliance Française Lagos
Institut français Nigeria