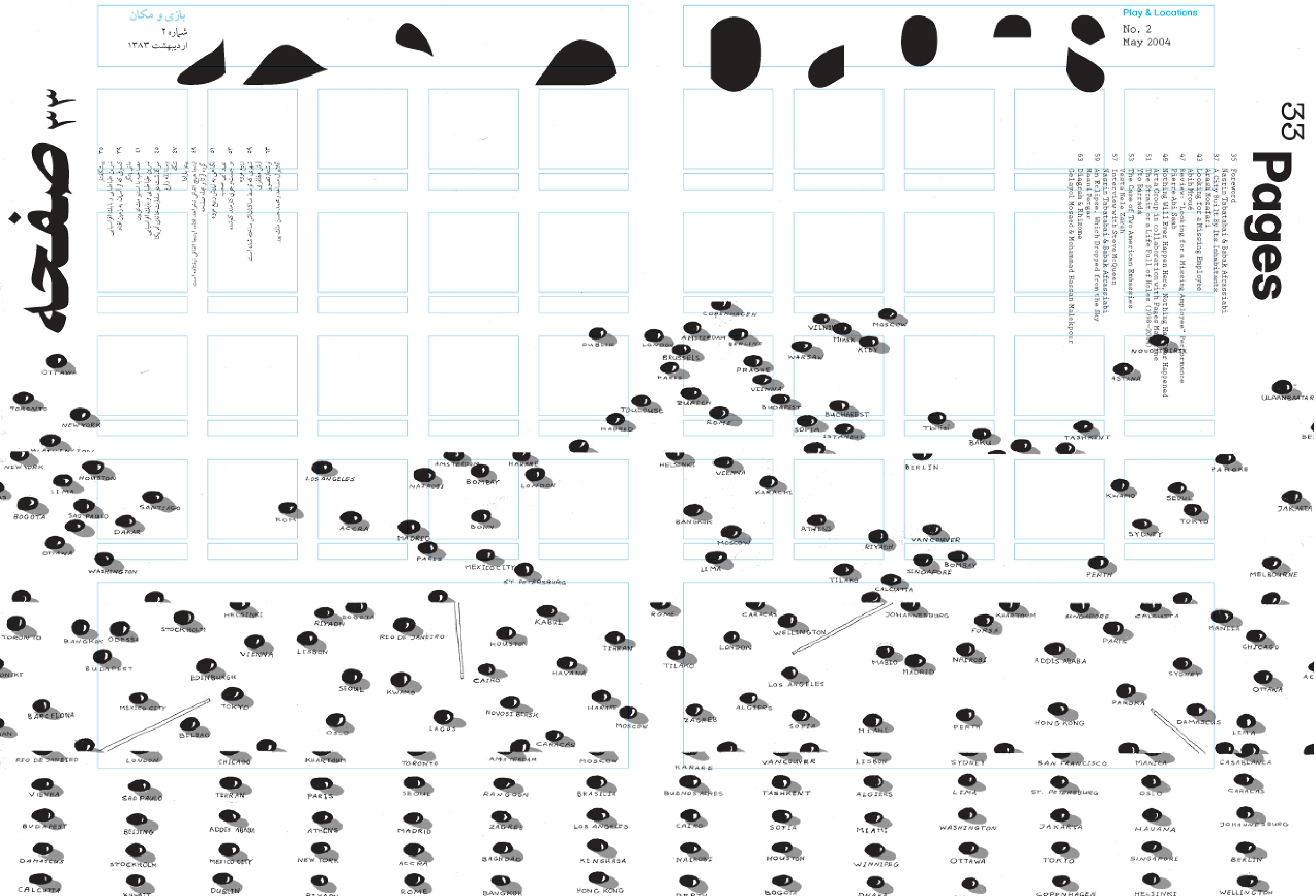 Pages magazine. Image courtesy of the artists
Nasrin Tabatabai and Babak Afrassiabi will join ENSAPC as visiting professors for the academic year 2019-2020.
Nasrin Tabatabai and Babak Afrassiabi have collaborated since 2004 on various joint projects, consisting of objects, videos, audio recordings, paintings and prints, often assembled together as installations. They also publish a bilingual (Farsi and English) magazine titled 
Pages,
 which is edited along the topical lines of their ongoing projects. Their work often evolves around the question of the archive as the possible juncture between history, geopolitics and the practice of art. In 2018 they launched Pages' online platform (
www.pagesmagazine.net
) as an expansion of their printed magazine. They have been tutoring since 2008 at different art institutions, including the Jan van Eyck academy, Maastricht; The Hague Royal Academy of Art among others.
Their solo and group exhibitions are a.o.:
Crude, Art Jameel, Dubai, UAE (2018-2019); Publishing Against the Grain, McIntosh Gallery, Ontario, Ca (2019); Lodgers, solo, MUHKA, The Museum of Contemporary Art, Antwerp, Belgium, (2016-2017); Publishing as an Artistic Toolbox: 1989-2017-Kunsthalle Wien, Austria (2017-2018); Gestures and Archives of the Present, Genealogies of the Future, Taipei Biennial,Taiwan (2016-2017); Between East and West: A Gulf", Kuwait National Pavilion, Venice Architecture Biennial, Venice, IT (2016); Lost in the Archive, Centre for Contemporary Art, Riga, Latvia (2015-2016); 5th Guangzhou Triennale/ First Asia biennial, Guangzhou, China (2015-2016);  The Past, The Present, The Possible, 12 Sharjah Biennial, Sharjah, UAE (2015); Moderation, Witte de With Centre for Contemporary Art, Rotterdam (2014); Seep, solo, Chisenhale gallery, London, UK, (2013); Two Archives, solo, Tensta Konsthall, Stockholm, SE 2013;  Seep, solo, Museu d'Art Contemporani de Barcelona (MACBA), Spain (2012); Roundtable, 9th Gwangju Biennale (2012); Untitled, 12th Istanbul Biennial (2011); The Isle, solo, MAK Center/ Schindler House, Los Angeles, USA, (2009); Participated in Magazines, Documenta 12, Kassel (2007) and publishing project at Como viver junto, 27th São Paulo Biennial (2006).