Studio Romance. Hybrid Object n°3
6 October 2011 – 12 November 2011
Exhibition
Opening October 5, 2011
SevenUp
1 October 2011
Performance
Nuit Blanche / Frasq Performance Festival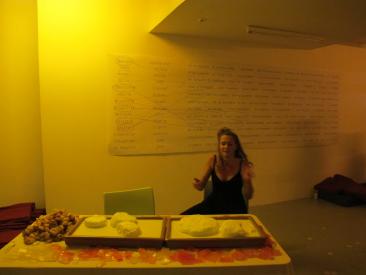 The Fat moments (la pédagogie), 5e séquence du mini-opéra pour non musiciens
26 May 2011 – 9 July 2011
Exhibition
Fat moments (an expression generally translated into French as "remarkable moments") are those moments when, in the course of a conversation between several people, a form of knowledge of a strictly collective nature emerges that could not have emerged outside this framework.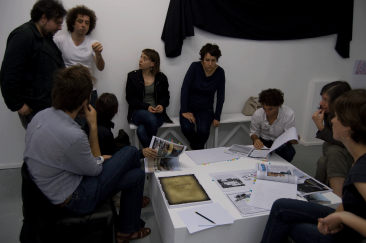 Die Vitrine
16 April 2011
Exhibition
Following the week-long workshop of the students of Simone Decker's class, artist and professor at the Akademie der Bildenden Künste in Nuremberg and those of the ENSAPC, La Vitrine presents all the plastic proposals.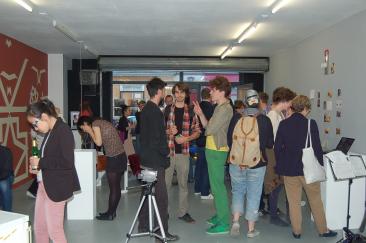 Self Fulfilling Prophecies
27 January 2011 – 19 March 2011
Exhibition
Opening on January 26, 2011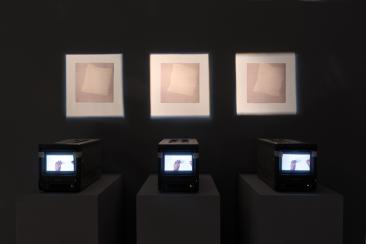 Projection # 2
18 May 2011
Exhibition
Projection of the video works of the students of the artist-professor Michèle Waquant.
A proposal by Michèle Waquant
La Convention
13 May 2011
Exhibition
Signature of the partnership between the Soochow University School of Art (Suzhou, China) and the École Nationale Supérieure d'Arts Paris-Cergy.
A proposal by Claire Roudenko-Bertin and ENSAPC students.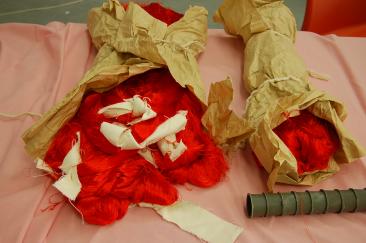 Mille Feuillets
25 March 2011 – 2 April 2011
Exhibition
For Drawing Now l Le Parcours, La Vitrine acts as a relay for student productions that question the very practice of drawing, inviting, in particular, other disciplines. What La Vitrine thus shows is above all a work of opening to the world and a living commitment.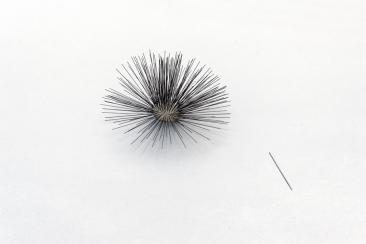 Rocket Engine ou la métamorphose des agrégats
January 6, 2011 – January 15, 2011
Exhibition
Opening on January 5, 2011
8pm: performance by Emilien Adage