BIC® Prize for the ENSAPC 2019
December 11, 2019 to February 8, 2020
Société BIC and the Ecole Nationale Supérieure d'Arts de Paris-Cergy are pleased to announce the fourth edition of the BIC® Prize for Contemporary Creation for the ENSAPC. This year, the CRR 93 is pleased to host the exhibition, in partnership with Ygrec and the Visual Arts Pole of the Cultural Affairs Department of Aubervilliers.
The BIC® prize aims to encourage contemporary creation by highlighting an emerging artist studying at ENSAPC. It offers all students the opportunity to explore potential artistic relationships and imaginary worlds based on BIC® products through a process of appropriation and embezzlement. By supporting the field of experimental art education, which is committed to issues of diversity and equality, the prize aims to reward a production selected by a jury of art world professionals.
For the 4th edition of the Bic Prize for Contemporary Creation for the ENSAPC (Ecole nationale supérieure d'arts de Paris-Cergy), Vincent Rasclard was awarded the prize for his monochrome black work "Teilapubel". The artist has cumulated, gathered in a thick layer and made the ink of the black Bic Cristal pen reflect on this 4 x 37 cm panel. It evokes a memory of schoolchildren's kits, letters, written words, spread out on a single support.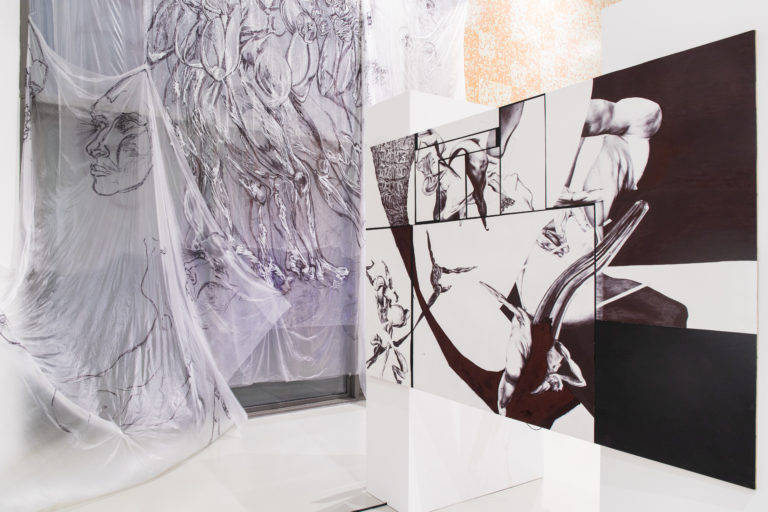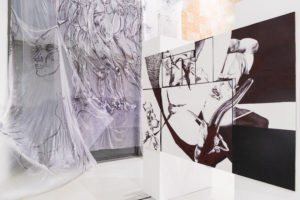 100% Performance, Villette
From 20 to 31 March 2019
Showcase of French know-how, 100% EXPO initiates a new regular appointment in the contemporary art calendar. The Grande Halle and the Folies de La Villette become the playground for more than 100 young artists, who have graduated from schools within the last 4 years. Visual arts, installations, films, videos, design, fashion, performances…
A place of research and experimentation renowned for the emergence of innovative artistic forms, the ENSAPC (in collaboration with its art centre YGREC) builds a programme of performances tailored to the spaces of the Grande Halle: strolling forms, readings, dance performances and sound poetry.
With the participation of ENSAPC alumni: Méryll Ampe, Nana Benamer, Dominique Gilliot, Louise Hervé et Chloé Maillet, Violaine Lochu, Josefa Ntjam, La Verbe, Jisoo Yoo