La Pensée du Tremblement
OPENING HOURS:
Wednesday to Saturday from 1pm to 7pm
Sunday from 1pm to 6pm

ENSAPC YGREC
82, Avenue Denfert-Rochereau
Les Grands Voisins
Ancien hôpital Saint-Vincent-de-Paul
Bâtiment Lelong
75 014 Paris

ACCESS
M°4/6 Denfert-Rochereau
RER B Port Royal ou Denfert-Rochereau
Bus 38 et N1 : Arrêt Saint-Vincent-de-Paul
Vélib : Station 14111 – 18 rue Cassani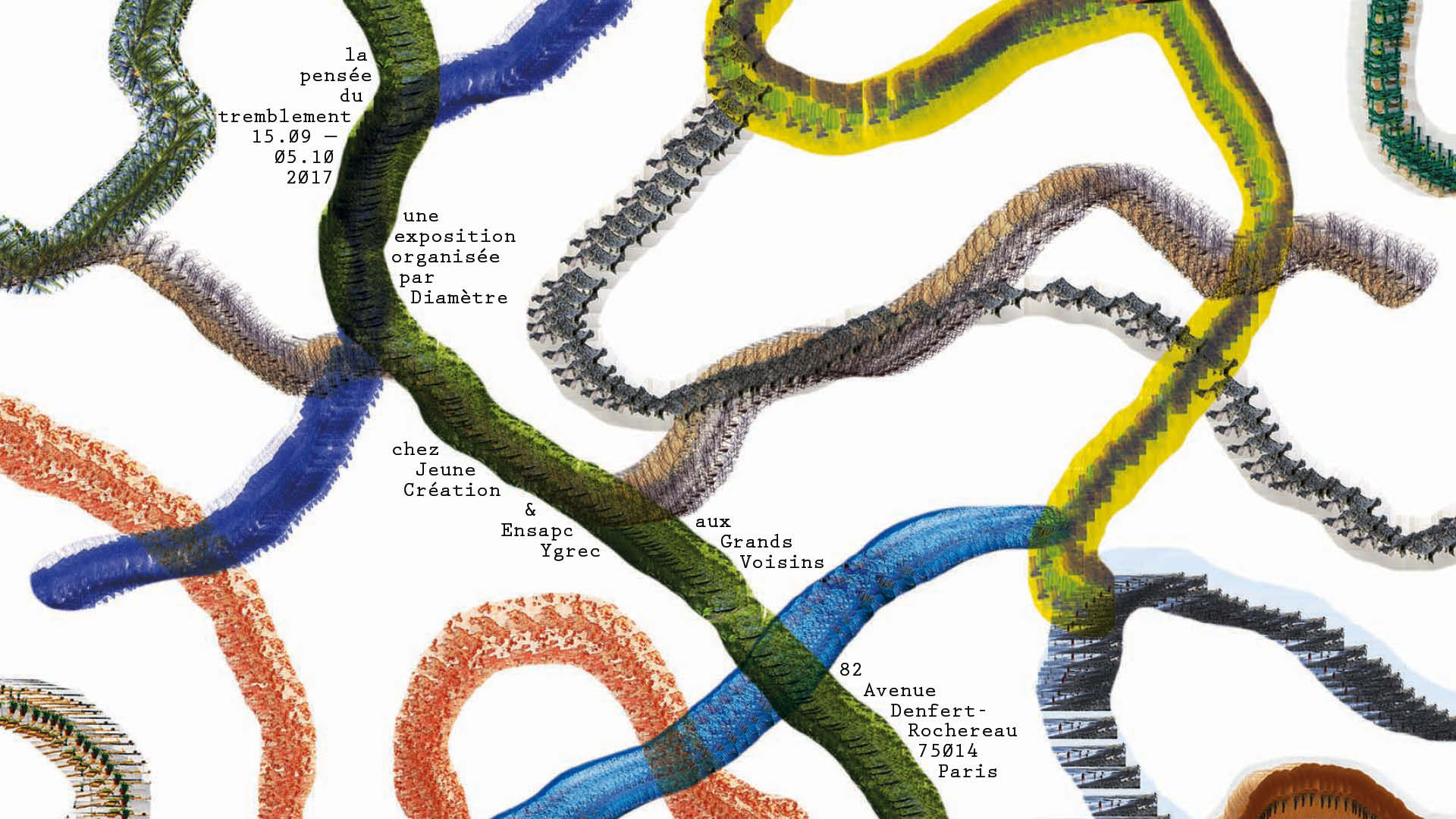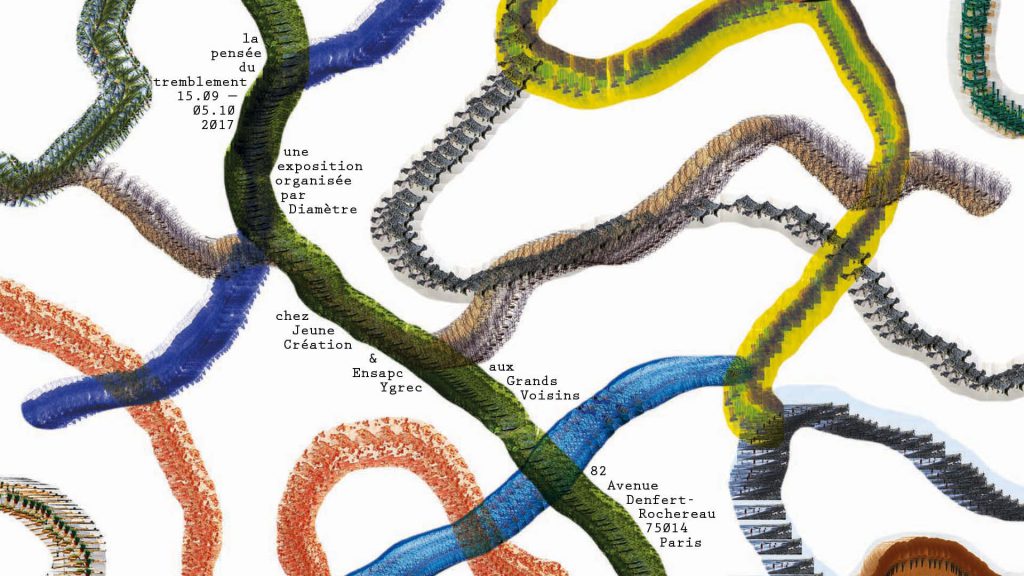 Exhibition
La pensée du tremblement

Du 15 septembre au 5 octobre  2017, du mercredi au dimanche, 13h – 19h
Vernissage le 14 septembre à partir de 18h
La pensée du tremblement surgit de partout […] Elle nous préserve des pensées de système et des systèmes de pensée. Elle ne suppose pas la peur ou l'irrésolu, elle s'étend infiniment comme un oiseau innumérable, les ailes semées du sel noir de la terre. Elle nous réassemble dans l'absolue diversité, en un tourbillon de rencontres. Utopie qui jamais ne se fixe et qui ouvre demain, comme un soleil et un fruit partagés.
Édouard Glissant, La Cohée du Lamentin. Poétique V, Gallimard, 2005.
Taking Édouard Glissant's thought as a starting point, Diamètre wanted to think about a possible tomorrow. To ideologies and systems, the philosopher and poet contrasts an archipelago of thought, based on discovery, interference and creative disorder. Against any form of uniformization or assimilation, Glissant's model of relationship produces unstable situations, disturbing because they are hybrid, but deeply fertile.
It is in this chaos of the "Everyman" that the project fits in; a world no longer governed by great hegemonic movements but by successive jolts on the scale of a territory, the end of globalizing utopias in favor of open and changing utopias. "Act in your place, think with the world", as the Creole thinker says.
Conceived for the Grands Voisins between two islands – Jeune Création and ENSAPC YGREC galleries – the exhibition aims to reflect a generation of artists for whom identity is necessarily transitory and bodies, diasporic. As fluid as the water that composes us, "la pensée du tremblement" is an exhibition where the picture rails move and undulate, where the works play with precarious balances, sometimes suspended in the air like specific affected objects.
Diverting the tropical tropes or reinventing a collective language, it is a polyphonic universe that is offered, accompanied by a reading space where words come to mingle with flesh.
with:
Minia Biabiany, Gaëlle Choisne, Élise Courcol-Rozès, Julien Creuzet, Alice Didier Champagne, Kenny Dunkan, Rémi Duprat, Marco Godoy, Tarek Lakhrissi / Aurèle Nourisson, Hugo Livet, Violaine Lochu, Julie Luzoir, Paul Maheke, Basir Mahmood, Marie-Claire Manlanbien, Nefeli Papadimouli, Sandrine & David, Giuditta Vendrame, Yao Qingmei
The exhibition is also presented at the Jeune Création gallery (Grands Voisins, 74 avenue Denfert Rochereau).
The exhibition is supported by ADAGP and private copying, the Thibault Poutrel Endowment Fund, the Buchet-Ponsoye Endowment Fund, Crous Paris, the University Paris 1 Panthéon Sorbonne, the École du Louvre and the Institut du Tout-Monde.
Programming :
Wednesday, September 20th
Violaine Lochu's workshop with the residents of Le Tremplin
Friday, September 29th
poetic evening in partnership with the Institut du Tout-Monde at the Grands Voisins amphitheatre

Diamètre
50, rue des Tournelles
75003 Paris
info@diametre.org