BIC® PRIZE FOR ENSAPC 2017
OPENING HOURS :
Wednesday to Saturday from 1pm to 7pm,
Sunday from 1pm to 6pm.

ENSAPC YGREC
82, Avenue Denfert-Rochereau
Les Grands Voisins
Ancien hôpital Saint-Vincent-de-Paul
Bâtiment Lelong
75 014 Paris

ACCESS
M°4/6 Denfert-Rochereau
RER B Port Royal ou Denfert-Rochereau
Bus 38 et N1 : Arrêt Saint-Vincent-de-Paul
Vélib : Station 14111 – 18 rue Cassani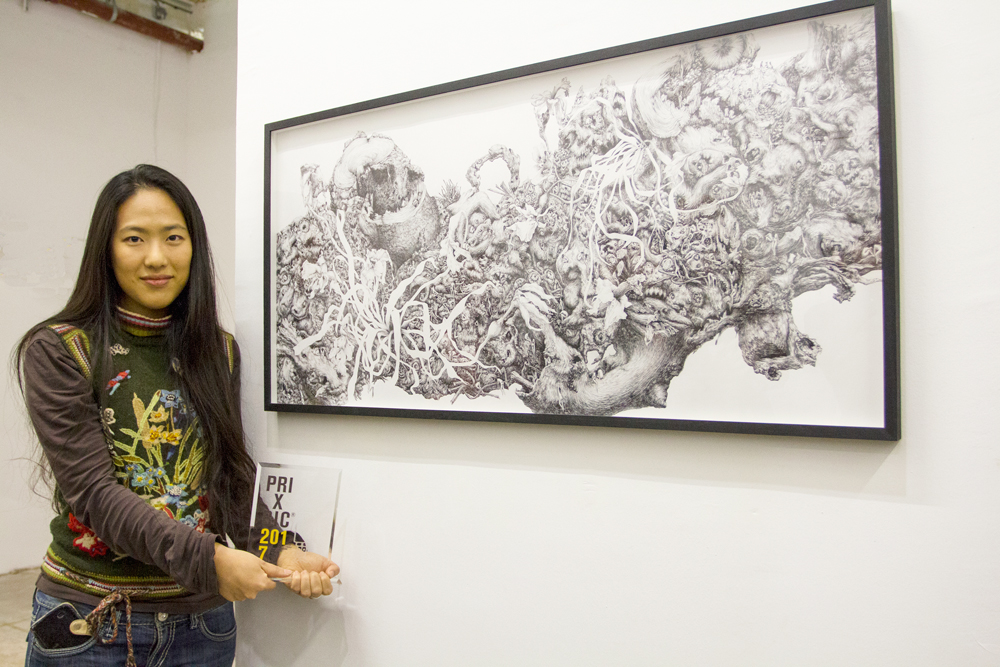 Exhibition
BIC® AWARDS FOR THE ENSAPC 2017
BIC® AWARDS FOR THE ENSAPC 2017
Opening : December 4th at 7 pm
Award Ceremony: 7 pm
Exhibition: from Monday 4 December 2017 to 22 December 2017
Société BIC and the Ecole Nationale Supérieure d'Arts de Paris-Cergy are pleased to announce the second edition of the BIC® Prize for Contemporary Creation for the ENSAPC.
The purpose of this prize is to encourage the creation of new artistic forms by highlighting emerging artists who are students at ENSAPC.
The BIC® prize offers young artists the opportunity to explore, deepen, appropriate and reinvent all the artistic potential and imagination offered by the brand.
BIC wanted to include this award within the ENSAPC in order to support a dynamic and innovative, open and demanding world of education, as well as a symbol of cultural diversity. The prize, open to all students, aims to reward their work by allowing them to present it to a jury of professionals from the art world. The only request of the call for projects is to use, to put into situation, or to represent one or more BIC® brand product(s).
Jisoo Yoo is the winner of the 2nd edition of the ENSAPC 2017 Award with her artwork "Metamorphosis" (107 x 52 cm, 2017), a drawing made with 3 BIC® pens: BIC® Intensity® fine Felt pen BIC® Intensity® fine Roller Glide pro 0.5mm and BIC®Cristal® classic. Jisoo Yoo is a Korean artist born in Seoul in 1990 who lives and works in Paris (http://jisooyoo.com/).
The second prize was won by Mickey Pujolar with his work "Ink" (ink from 250 BIC® Cristal® pens on paper, collage, 150×220 cm) and the third prize – by Benjamin Zaragoza – with "Strates" (installation of 3 panels of polystyrene recovered from BIC® Cristal® blue pens, variable dimensions). The works of the winners will be presented at the exhibition "The Bic Collection" at the CENTQUATRE from April 14 to May 13, 2018.
The jury was composed of : Bruno Bich, Chairman and CEO of Société BIC; Agata Boetti; Florence & Daniel Guerlain, Collectors; Sandra Hegedüs, Founder of Sam Arts Projects; Hervé Mikaeloff, Curator and Marie-Ange Moulonguet, Member of the Artistic Committee of the Prix Duchamp and Art Paris.
All the works presented for this competition are exhibited at the Espace ENSAPC YGREC.
PRESS 
BIC :
Benjamin Durand
+33 1 45 19 51 55
benjamin.durand@bicworld.com
Image 7 :
Isabelle de Segonzac
+ 33 1 53 70 74 70
isegonzac@image7.fr
ENSAPC : 
Tatiana Nedelskaya
+33 6 10 35 02 89
tatiana.nedelskaya@ensapc.fr