VIENS, MAIS NE VIENS PAS QUAND JE SERAI SEULE
OPENING HOURS:
Wednesday to Saturday from 1pm to 7pm
Sunday from 1pm to 6pm

ENSAPC YGREC
82, Avenue Denfert-Rochereau
Les Grands Voisins
Ancien hôpital Saint-Vincent-de-Paul
Bâtiment Lelong
75 014 Paris

ACCESS
M°4/6 Denfert-Rochereau
RER B Port Royal ou Denfert-Rochereau
Bus 38 et N1 : Arrêt Saint-Vincent-de-Paul
Vélib : Station 14111 – 18 rue Cassani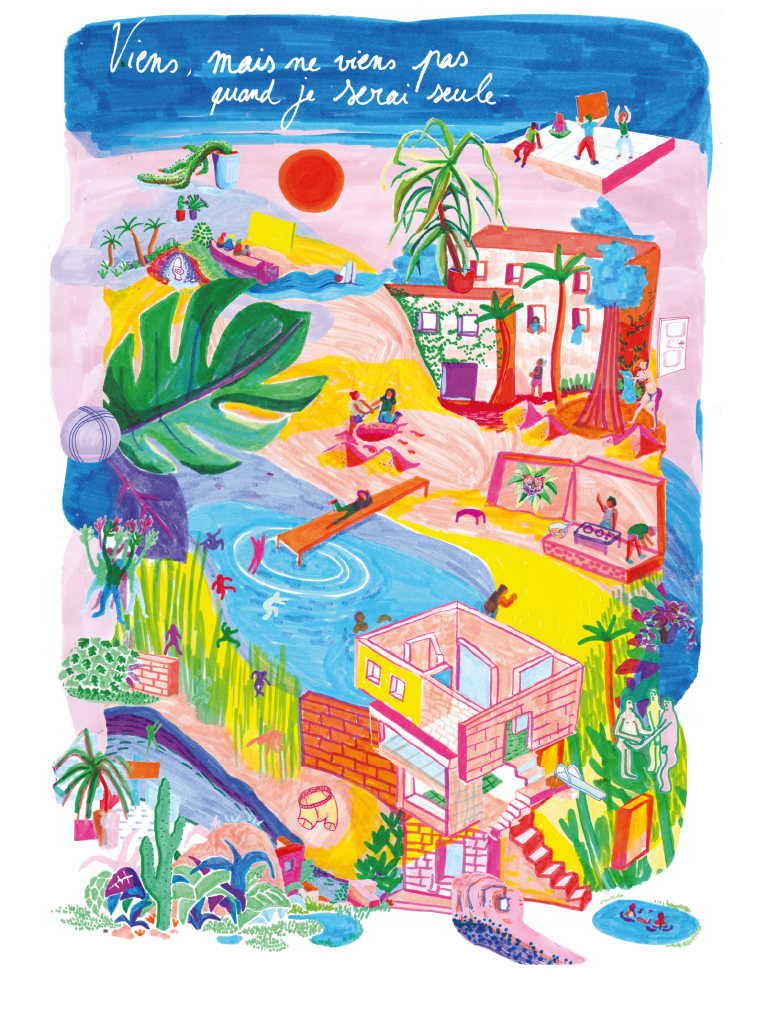 Exhibition
Viens, mais ne viens pas quand je serai seule

from 13 July to 10 September 2017
// Film screenings and performances with Ecran Voisin continue until September 17//
Find the program of the festival here
A summer festival (exhibitions, events, concerts, performances, dj sets) – a collective project of the ENSAPC 2016 graduates
Come and join us – it's party time at YGREC!
With : Jeanne Bathilde, Hugo Caillaud, Odonchimeg Davaadorj, Anne Destival, Benjamin Dufrêne, Alexandre Erre, Adrien Flament, Laurène Guarneri, Jessica Guez, Margot Hefez, Théo Hillion, Clément Jandard, Laetitia L'heureux, Mélaine Loison, Angela Ly, Adrian Mabileau Ebrahimi Tajadod, Marie-Claire Manlanbien, Zoé Pautet, Jean-Daniel Pellen, Zoé Philibert, Tiffanie Pichon, Aurel Porté, Simon Restino, Noah Teichner, Margot Trutin, Paola Quilici, Zukhra Sharipova, Woosung Sohn, Constance Sorel and Antoine Vallé and surprise guests.
Curated by Théo Robine-Langlois with the participation of the artists.
* Punctual events, concerts, performances, dj sets … will be announced throughout the summer.
In partnership with BIC.
OPENING: Thursday 13 July from 6pm to 10pm
6 – 7 pm – mix Aoûtat and Abjure Indemne (from Belladone)
7 – 9:30 pm – Dj set MARGE! + Yasmimeow & Mrln Miaou Vega
9:30 – 10 pm -Live BTBB
+ Cocktail
We are a group of artists who lived together for 2, 3, 4, 5 or 6 years in the same artistic education structure, the Ecole Nationale Supérieure d'Art de Paris-Cergy, and came out of it mainly in the summer of 2016.
"When the curtain one day falls / I want it to fall behind me"
During these school years, we lived in the same workshops, sometimes developing affinities, and carried out our projects individually or collectively. And often with regular exchanges.
We watched each other's works, influenced each other, talked about artists or something else, went to see exhibitions, films, and sometimes invited each other to participate in each other's projects.
"My life has burned under too many lights / I can't go into the shadows"
Now that we are no longer students, we propose this series of events based on our artistic activities "Come, but don't come when I'm alone", in Ygrec the off-walls of the school of Cergy, located in Les Grands Voisins.
This series is conceived less as an end-of-year or graduate exhibition than as a project put forward by artists who are voluntarily involved in it, in a desire for co-management.
"Come, but don't come when I'm alone", like a summer festival with several appointments, in several places in Les Grands Voisins. Multi-faceted programming, sometimes wild, of performances, concerts, videos, literature, paintings, sculptures, styling, installations and dances… fixed, mobile and ephemeral interventions.
"Pick a gala evening / If you want to dance with me"
"Come, but don't come when I'm alone," present who we are, what we do and with whom. These events welcome and show everything that seems good to us, in this disused Parisian hospital, renamed Les Grands Voisins, where immigrant workers, craftsmen, apprentice midwives, artists, volunteers, salaried workers, soup kitchen subscribers, eternal chasers and so many others coexist.
"The two of us already know each other / We've seen each other up close remember"
"Come, but don't come when I am alone", a mixture of common desires, necessities, intentions and coincidences, of living together and for oneself.
"Yes I want to die on stage / With an open heart full of colour"
Extract from the press release written by Jessica Guez, Aurélien Porté, Théo Robine-Langlois and the voice of Dalida